Italian cuisine | Ristorante VenireVenire
Concept
VenireVenire's "Kaiseki Italian" that consists of traditional Japanese Kaiseki dishes combined with elements of Italian cuisine. Featuring ingredients from Iwate prefecture, where the chef is also from, we make each dish with high-quality ingredients from all across Japan and using traditional Japanese cooking techniques that require much time and effort. The results are beautiful dishes like works of art that allow to you enjoy the natural flavors of all ingredients. At VenireVenire, you can taste "Kaiseki Italian" dishes that are cooked with domestic ingredients and Japanese dashi broth as well as specially selected olive oil.

Omotenashi
What we value in 'Omotenashi'(Japanese hospitality) is that both our guests and our restaurant can think of a precious moment we shared as "a great time." Neither only clean rooms nor only expensive dishware is enough. At Hoshi No Naru Ki, all staff members always keep in mind to provide a courteous service tailored to each one of our guests, and we look forward to serving them.

Chic Quality Space Interwoven by Japanese and Western Styles
Classy restaurant with a graceful atmosphere You can enjoy your meal in a relaxing ambience with the window view of Nishi-Shinjuku in the background. The restaurant has a spacious dining area with a total of 140 seats as well as four private dining rooms.
Lunch Guidance
【 LUNCH ~Garofano~ 】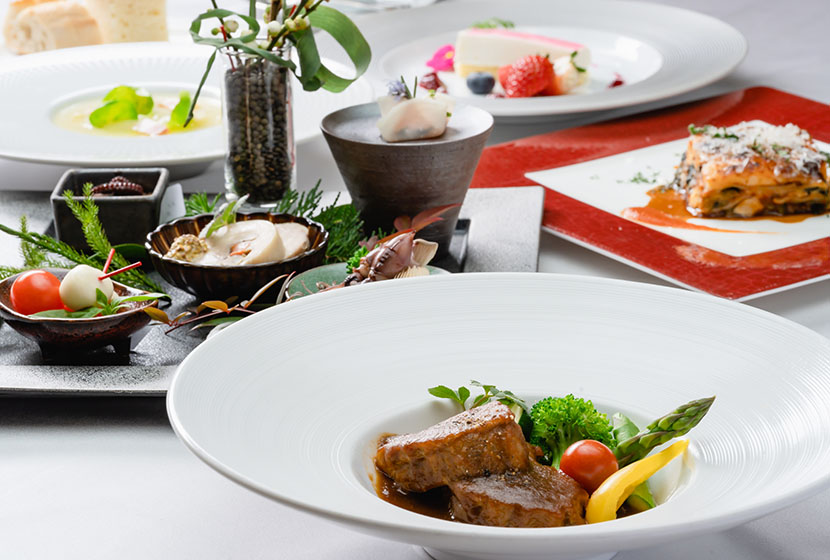 Number of people
2people~
price
4,400yen (tax included/subject to service charge)
Reservation deadline
Please make a reservation by 10:00 a.m. on the day before your desired reservation date.
Notice

Detail

※The menus are just examples and vary with the seasons and the availability of ingredients.
※Orders are subject to a 10% service charge.
※If allergic to any ingredients, please notify us in advance when making a reservation.
※Children in elementary school or younger may only use private dining rooms.
※The use of private dining rooms is subject to a private room charge (which starts from 5,500 yen (tax included) and varies depending on the room size).
※A cancelation fee will be charged as below.
* If you have food allergy of any kind, please inform us at the time of booking.
*Private dining rooms are only available for four or more adults【Weekdays|11:30 – 15:00/ 14:00 -16:00 2 part system】
■ When reservations are canceled
・On the reservation date without cancellation notice: 100%・On the reservation date with cancellation notice: 100%・After 00:00 a.m. on the day three days before the reservation date: 50%・After 00:00 a.m. on the day seven days before the reservation date: 30%
■ When reservations are changed
・On the reservation date without cancellation notice: 100%・On the reservation date with cancellation notice: 100%・After 00:00 a.m. on the day three days before the reservation date: 50%・After 00:00 a.m. on the day seven days before the reservation date: 30%


content

Examples of menus

Antipasto misto
8 "OTTO"
・Hachimandaira salmon served with zucchini, cannelloni, lychee, and dill
・Abe chiken tagliata served with apricot jam and rosemary
・Tomato bavarois served with nduja and okra
・Conger eel cooked in red wine served with eggplants and garam masala
・Apple pork served with pineapple, sauce au ragivote, and oregano

Zuppa
"Vellutata"
Corn served with kumin

Primo piatto
"Specialita !"
Iwate Shorthorn beef lasagnette with pureed Oshima tomato

Secondo piatto
"Festa"
Wagyu beef cheek meat served with grapes from Mt. Iwate and Barsamic vinegar

Dolce
"Fiore"
Tiramisu made with free range chicken eggs from Iwate prefecture and mango

※There is an English menu
Lunch plan
■【Weekdays only】Margherita 3,300yen (tax included/subject to service charge)
■Garofano 4,400yen (tax included/subject to service charge)
■Girasole 6,600yen (tax included/subject to service charge)

Dinner Guidance
【 DINNER ~Cosmos~ 】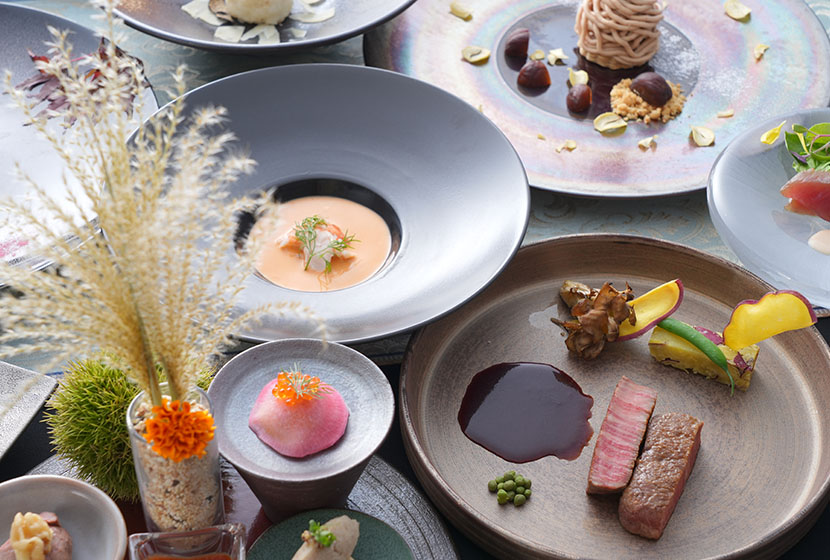 Number of people
2people~
price
8,800yen (tax included/subject to service charge)
Reservation deadline
Please make a reservation by 10:00 a.m. on the day before your desired reservation date.
Notice

Detail

※The menus are just examples and vary with the seasons and the availability of ingredients.
※Orders are subject to a 10% service charge.
※If allergic to any ingredients, please notify us in advance when making a reservation.
※Children in elementary school or younger may only use private dining rooms.
※The use of private dining rooms is subject to a private room charge (which starts from 5,500 yen (tax included) and varies depending on the room size).
※A cancelation fee will be charged as below.
* If you have food allergy of any kind, please inform us at the time of booking.
*Private dining rooms are only available for four or more adults【Weekdays|11:30 – 15:00/ 14:00 -16:00 2 part system】
■ When reservations are canceled
・On the reservation date without cancellation notice: 100%・On the reservation date with cancellation notice: 100%・After 00:00 a.m. on the day three days before the reservation date: 50%・After 00:00 a.m. on the day seven days before the reservation date: 30%
■ When reservations are changed
・On the reservation date without cancellation notice: 100%・On the reservation date with cancellation notice: 100%・After 00:00 a.m. on the day three days before the reservation date: 50%・After 00:00 a.m. on the day seven days before the reservation date: 30%


content

Examples of menus

Stuzzichino
Kuzumaki Bokujo Rich Cheese Summer Vegetables Macedonian

Antipasto misto
・Hachimandaira salmon served with zucchini, cannelloni, lychee, and dill
・Abe chiken tagliata served with apricot jam and rosemary
・Tomato bavarois served with nduja and okra
・Conger eel cooked in red wine served with eggplants and garam masala
・Apple pork served with pineapple, sauce au ragivote, and oregano

Zuppa
"Vellutata"
Corn served with kumin

Carpaccio
"Consegna diretta"
Fresh fish served with peach, fruit tomato, and salmoriglio sauce

Primo piatto
"Specialita !"
Iwate Shorthorn beef lasagnette with pureed Oshima tomato

Secondo piatto
Calm, a dish consisting of fresh swordfish, grapes from Mt. Iwate,
Barsamic vinegar, and winter melon

Terzo piatto
"Festa"
Wagyu beef cianbotta served with green yuzu and yuzu salt made with yuzu from northern Japan

Rizotto
Roasted tomato risotto made with Iwate Hitomebore brand rice, served with sprout misto, 18-months Parmigiano Reggiano, red sea bream, and consommé

Dolce
"Fiore"
Griotte cherry and pistachio cheese-cake

※There is an English menu
Dinner plan
■【Weekdays only】Girasole 6,600yen (tax included/subject to service charge)
■Cosmos 8,800yen (tax included/subject to service charge)
■Ciclamino 11,000yen (tax included/subject to service charge)
■Rosa 16,500yen (tax included/subject to service charge)


Restaurant Name
Ristorante VenireVenire
Address
Rainbow Village (Building) 9th Floor, 3-5-4 Shinjuku, Shinjuku-ku, Tokyo, 160-0022
Telephone number
03-3355-5020
Access
Tokyo Metro Marunouchi Line/ Shinjuku-sanchōme station… 1 minute walk from the Exit 4 (Located in a building that is directly connected to the Exit 4)
Tokyo Metro Fukutoshin Line/ Shinjuku-sanchōme station…1 minute walk from the Exit 4 (Located in a building that is directly connected to the Exit 4)
Toei Shinjuku Line/ Shinjuku-sanchōme station…1 minute walk from the Exit 4 (Located in a building that is directly connected to the Exit 4)
JR Line/Shinjuku station…5 minute walk from the East Exit
Parking: Shared and paid parking space with a total of 30 parking slots available
Business hours 8:00 – 22:00(*Sun and National Holidays ・・・ 9:00 – 22:00)
Open
11:30 – 22:00 (Sat ・・・11:00 – 22:00) (Sun and National Holidays・・・11:00 – 21:00)
Lunch 11:30 – 15:00 (Weekends and National Holidays ・・・11:00 – 16:00)
Dinner 17:00 – 22:00 (Sun and National Holidays ・・・17:00 – 21:00)
*There may be changes in opening hours. Please call us for more information.
Closed
December 31/January 1